So I decided to do an impromptu Google Meet testing with members of my community.
If you've not heard of Google Meet, it is a video communication service developed by Google. It was originally created for secured business conferencing and was recently re-engineered by Google to serve as a conferencing tool for all occasions.
I sent a Google Calendar invitation to 5 members of my community and also shared the URL directly to others on our WhatsApp group, with the goal of testing how easy it'd be to join through the calendar invite or Meet's URL.
Before the test, about 99% of them had not used Google Meet before and were hearing about it for the first time.
I sent the invitation within 11:30 – 11:55 for a 12-noon meeting, and shared the URL on the WhatsApp group after the meeting started. I didn't want anyone to have time to prepare as I wanted to test the platform's ease of use.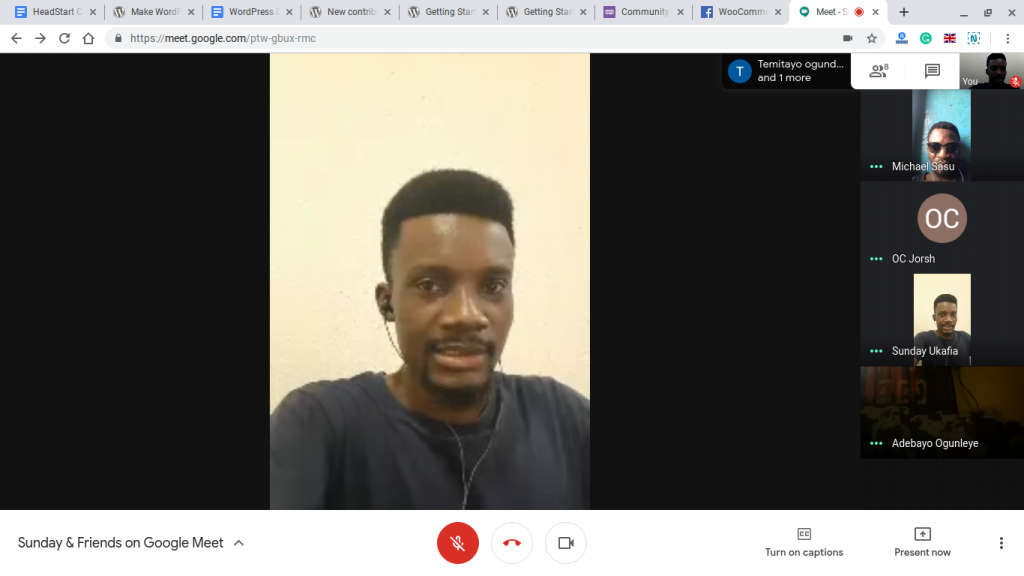 Guess what? I had over 10 people join in. The video and audio quality were good and according to them, it was seamless to join the meeting. Those joining on mobile were prompted to install the Google Meet app and that's all they had to do.
Together, we tested the Google Meet video conferencing software and played around with some of its features (presentation, chat, etc.)
Although I could mute people individually, I couldn't figure out how to mute everyone at once.
I joined using my Android smartphone and Chromebook just so I could have a feel of how it works on both devices.
According to Google, the free plan allows a maximum of 100 participants as well as a duration of 60 minutes, but due to the COVID-19 pandemic, the 60 minutes limit has been lifted until the 30th of September 2020. This is great and makes Meet a really great choice for free video conferencing.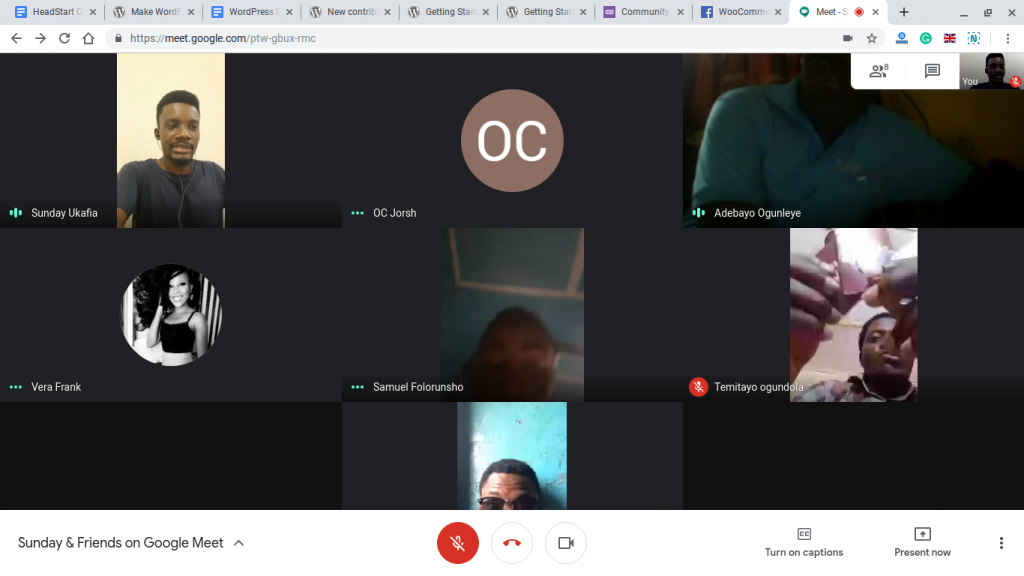 Google Meet Key features we tested
Presentation – Allows you to share screen both on desktop and mobile. It's perfect for sharing slides or your desktop screen.
Chat – Allows everyone in the meeting to leave comments and chat messages
Layout – Google Meet has 4 layouts; Auto, sidebar, Spotlight and tiled. Layouts allow you to choose how you want to see people in the meeting.
Google Meet Pros
Free for 100 participants – You can host meetings with a hundred participants for free. If you need to host more than 100 people, you'd have to subscribe to a premium plan.
No duration limit – Google has lifted its 60 minutes duration for the free plan until 20th September 2020, and I think the 60 minutes duration isn't even a bad deal for a free plan.
Integrates with Google calendar – you can easily schedule/join a Google Meet meeting using your Google Calendar app.
Integrates with Gmail – You can seamlessly schedule/join a Google meet meeting through the Gmail interface.
Google Meet Cons
Mute all – I host meetups and it can get really noisy when everyone's mic is on at the same time. I could mute people individually but there was no option to mute everyone at the same time.
Embed webcam – I presented (shared my screen) using the presentation option. Unlike Zoom which your video appears at the bottom right part of the screen, my video didn't appear anywhere.
Have you tried out Google Meet? What do you think about it?
Personally, I like that it has a presentation option which allows me to share my slides on the screen, which is great for meetups and other teaching classes. I particularly like that it allows up to 60 minutes of free video conferencing, unlike Zoom which limits its free plan to just 40 minutes.